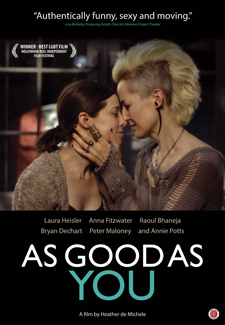 First Run Features has acquired U.S. and Canadian rights to the award-winning indie dramedy, AS GOOD AS YOU.

In her feature film debut, Heather de Michele directs a screenplay by Gretchen M. Michelfeld, executive produced by Michelfeld and produced by Reena Dutt. AS GOOD AS YOU, starring Laura Heisler, Anna Fitzwater, Raoul Bhaneja, Bryan Dechart, and Annie Potts, is the story of a recently widowed Jo (Heisler) who asks her late wife's brother (Dechart) to be her sperm donor. Mayhem ensues after a visit to the fertility clinic's eccentric psychotherapist (Potts) and a love triangle with her two best friends (Fitzwater and Bhaneja).

Dutt and Michelfeld state, "First Run Features is the perfect home for AS GOOD AS YOU - a film that is part of a new wave of niche cinema featuring universal stories that normalize diversity with humor and joy. We are thrilled to have found a partner with the same progressive values."

"We are excited to bring this wonderfully entertaining film to North American audiences," said Marc Mauceri, Vice President of First Run Features. "It's not often that we come across such a smart American comedy-drama that delivers on so many levels."

AS GOOD AS YOU is a co-production of Tanky Productions and Off-Chance Productions and also features Peter Maloney, Karis Campbell, Elizabeth Herring, and Karen Wexler. Director of Photography: Robert C. Webb, Production Designer: Keseh Morgan, Editor: Trevor M. Carlee, Composer: Trevor McLean, Original Songs: Melineh Kurdian. 

ABOUT FIRST RUN FEATURES: Founded in 1979, First Run Features is one of America's notable distributors of independent films. Their releases include Spike Lee's JOE'S BED-STUY BARBERSHOP: WE CUT HEADS, Cheryl Dunye's THE WATERMELON WOMAN, Michael Beach Nichols and Christopher Walker's WELCOME TO LEITH, Ivy Meeropol's INDIAN POINT, Garrett Zevgetis's  BEST AND MOST BEAUTIFUL THINGS, Carlos Saura's ARGENTINA, Chris Hegedus's and DA Pennebaker's UNLOCKING THE CAGE, and Michael Apted's 56 UP.