Los Angeles and Other Cities Added
BALLERINA
A Portrait of Five Exceptional Russian Ballerinas

Following its premiere at the Dance on Camera Festival at Lincoln Center
and the January 16 opening at New York's Quad Cinema

BALLERINA will open on March 20, 2009
at the Laemmle Music Hall Theater in Los Angeles
(check below for complete listings of cities and dates)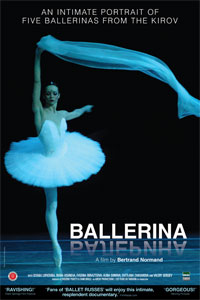 First Run Features is pleased to announce the release of BALLERINA, Bertrand Normand's beautiful portrait of five ballerinas from Russia's renowned Mariinsky Theatre, (formerly known as the Kirov). These premiere dance artists leap from rehearsal halls to international stages as they re-invent classical ballet and enchant audiences worldwide in this "surprisingly intimate portrait of what it means to be a ballerina" (Time Out New York).
The Kirov Theatre has produced many of the world's finest choreographers and dancers including Anna Pavlova, Vaslav Nijinsky, Rudolf Nureyev, Mikael Baryshnikov, and Natalia Makarova. Now, The Mariinsky Theatre, under the artistic direction of the legendary Valery Gergiev, brings us to a new generation of rising stars: Alina Somova, Svetlana Zakharova, Diana Vishneva, Ulyana Lopatkina and Evgenia Obraztsova - tough, insightful and exceptionally talented women, each with her own personal hopes, dreams and career-changing challenges. From leaving school to coming-back from a crippling injury, their journeys reflect unique components of the ballerina's experience.
Weaving intimate interviews with rehearsal studio footage, BALLERINA also shows scenes from famous ballets such as Marius Petipa's Paquita, Swan Lake and La Bayadère, as well as George Balanchine's Diamonds, Michael Fokine's Schéhérazade and Lavrovsky's Romeo and Juliet. This distinctive documentary captures the sublime beauty of the ballerina in all her glory, and reveals the country where she still shines - Russia, the land of the ballerina par excellence.
Bertrand Normand was born in 1972. Before devoting himself to film, Normand studied business management in Paris, Oxford and Berlin. Following that, he lived in the Philippines, fulfilling his military service requirement as the audio-visual attaché to the Ambassador of France. At age 25, he attended the Vancouver Film School in Canada where he directed his first films. When he returned to France, he studied at the Studio Jack Garfein. Normand has directed short films as well as three documentaries, and is currently working on a new documentary about the historical reconstructions of the Napoleonic era in Russia.
Praise for Bertrand Normand's BALLERINA
"Fans of Ballets Russes will enjoy this intimate, resplendent documentary." -FilmRadar.com
"Telling...fascinating... captures the fragility and ferocity of five Mariinsky ballerinas.
A surprisingly intimate portrait of what it means to be a ballerina." -Time Out New York
"Gorgeous...highlights the ethereal quality of these skillful superstars. Reminiscent of the dancer-dreaming paintings of Degas." -Moving Pictures

"BEST OF FEST! Most beautiful."
-Gordon Parr, Notes From Hollywood.com (at the Palm Springs Int. FF)
"Magnificent! A refreshing look at the ballet." -Lori Henry, Suite101.com
BALLERINA will screen at the 2009 Dance On Camera Festival,
presented by Dance Films Association and The Film Society of Lincoln Center.

Director Bertrand Normand will introduce and do a Q & A
on Wednesday, January 7 at 6:15 pm and Thursday January 8 at 1:30 pm
at the Walter Reade Theater at Lincoln Center.

BALLERINA
80 Minutes, Color, 2006
Digibeta, stereo, 4.3 ratio
A film by Bertrand Normand
English Narration, Russian dialogue w/English Subtitles
Voice over Diane Baker
Camera Bertrand Normand Franck Laniel Isabelle Saunois Edward Oleschak Igor Yurov Alexandre Filipov Frédéric Podetti Dominique Collin Thierry Maisonnave
Editing Antonela Bevenja Sound editing Sandrine Henchoz
Mixing Raoul Fruhauf Additional sound Victor Smirnov, Cyril Moisson
Produced by Frédéric Podetti, Yann Brolli
An Adesif Productions / Les Films du Tamarin co-production


National Playdates:


New York, NY Quad Cinema
Chicago, IL Siskel Film Center
Seattle, WA Landmark Varsity
Washington DC Landmark E Street
Portland, OR Hollywood Theatre
Los Angeles, CA Laemmle Music Hall
San Francisco, CA Landmark Opera Plaza
Berkeley, CA Landmark Shattuck
Denver, CO Starz Denver
Tulsa, OK Circle Cinema


Opens January 16, 2009
February 13 - 19, 2009
February 27 - March 5, 2009
March 6 - 12, 2009
March 14 -15 & 20 - 21, 2009
March 20 - 26, 2009
March 27 - April 2, 2009
March 27 - April 2, 2009
March 27 - April 2, 2009
April 19- 25, 2009

Additional playdates, Press Release, Press Kits and Photos are available at
http://www.firstrunfeatures.com/ballerina_press.html


SCREENERS ARE AVAILABLE ON REQUEST BY CONTACTING Kelly.Hargraves@firstrunfeatures.com