Opening August 7, 2009 at New York's Cinema Village
***Director Abdullah Oğuz and Book Author Ömer Zülfü Livaneli
Are available for Phone or Email interviews***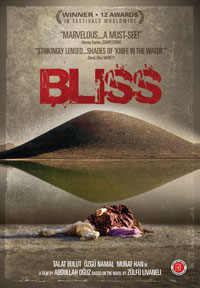 The most acclaimed Turkish film of the decade – and the one of the first narrative films to tackle the highly charged subject of honor killings – is finally coming to screens in the U.S. Based on the internationally acclaimed novel by renowned Turkish author O. Z. Livaneli and set against the backdrop of Turkey's natural wonders, Bliss is an unconventional road movie that pits tradition against modernity, urban against rural and East against West, all the while refusing to settle for easy answers.
When 17-year-old Meryem is found disheveled and unconscious by the side of a lake in the countryside, her family believes the worst – that her chastity has been lost. They turn to the ancient principle of "tore," a strict moral code that condemns Meryem to death. The duty of upholding the family's honor falls upon a distant cousin, Cemal, who has just completed a brutal tour in the military. Together they embark on a surprising journey across traditional and modern-day Turkey in this unforgettable film.
Born in Istanbul in 1958, director/producer Abdullah Oğuz has worked prolifically in Turkish television and is one of the pioneers of the Turkish music video industry. Oğuz made his feature film directorial debut in 2003 with The Ivy Mansion-Life, which was the continuation of a hit television series and the highest grossing film in Turkey that year. His other feature films include Jailbirds (2005) and Kismet (2008).
Ömer Zülfü Livaneli (b. 1946) is a popular Turkish musician, novelist, journalist and filmmaker. Published in 2002, Bliss is his third novel and has enjoyed immense international success. It was published in the U.S. in 2006 by St. Martin's Press. Livaneli is actively involved in the struggle for the prevention of honor crimes and frequently writes about honor killings to create public awareness about the problem. He has been a highly influential political figure in Turkey for the last thirty years, serving in the Turkish Parliament and, since 1996, as a UNESCO Goodwill Ambassador. He also composed the music for Bliss.
Bliss ("Mutluluk")
2007, 105 minutes, color, 35mm, Turkish w/English subtitles
Directed & produced by Abdullah Oğuz
Co-produced by George Lykiardopoulis
Based on the novel by Zülfü Livaneli
Art director: Tolunay Türköz
Edited by Levent Çelebi – LewQ, Abdullah Oğuz
Music by Zülfü Livaneli
Director of Photography: Mirsad Heroviç
Screenplay by Kubilay Tunçer, Elỉf Ayan, Abdullah Oğuz
Starring: Talat Bulut (Irfan), Özgü Namal (Meryem), Murat Han (Cemal), Mustafa Avkiran (Ali Riza), Emin Gürsoy (Tahsin), Sebnem Köstem (Döne), Meral Çetinkaya (Münevver), Erol Babaoğlu (Yakup), İdỉl Yener (Zazỉk), Alpay Atalan (Selo), Lena Leyla Başak (Serap), Alỉ Zeytỉn (Alỉ Rỉza'nin Adamỉ), Uğur İzgỉ (Alỉ Riza'nin Adamỉ), Lale Mansur (Aysel), Emel Göksu (Gülỉzar Ebe)
Winner! Audience Award, Best Film – Montpellier Int. Film Festival
Winner! Audience Award, Best Film – Puerto Rico Int. Film Festival
Winner! Odyssee Award for Best Film – European Council
Winner! Five Awards – Antalya Film Festival
Winner! Best Film, Best Director & Best Actress – Funchal Int. Film Festival
Opening Night Film – Mediterranean Film Festival, Rome
Opening Night Film – Mumbai Asia Film Festival
Winner! Special Jury Prize – Kerala Int. Film Festival, India
Official Selection: Seattle IFF, Cleveland IFF, Boston Turkish FF,
IFF Mannheim-Heidelberg, Istanbul IFF, Montréal World FF
"Traditional and modern mores in contemporary Turkey cross paths in the strikingly lensed Bliss, an upscale drama with shades of Knife in the Water." –DEREK ELLEY, VARIETY
"So unlike a Turkish film, but with a storyline that's elegantly weaved, and with characters that reflect the spirit of this country's soil." –ONUR BASTÜRK, HÜRRIYET NEWSPAPER
"Solidly directed, wonderful imagery, fabulous music, and acting that takes your breath away."
–MUSTAFA MUTLU, VATAN NEWSPAPER
"The best Turkish film I have viewed to date." –HINCAL ULUÇ, SABAH NEWSPAPER
"A magnificent dance of love and death... Another pinnacle in the current surge of the Turkish cinema." –ATILLA DORSAY, SABAH NEWSPAPER
"Timely, provocative, stellar and triumphant. Bliss is compassionate and revives the image and circumstances of the women of eastern Turkey that are rarely seen in global cinema."
–ASLI OMUR, EUROPEAN WEEKLY (US)
"The most significant work to emerge from Turkey in the past decade … provocative, thoughtful, heartrending and soul-stirring." –NP THOMPSON, MOVIES INTO FILM (AUSTRALIA)
"A film of beauty, challenge, emotion, tradition and truth; every image in the film is gorgeous. The film is among the most impressive I have ever seen: it is moving, its memory lingers."
–DANIEL GARRET, OFFSCREEN


ADDITIONAL NATIONAL PLAYDATES
| | | |
| --- | --- | --- |
| New York, NY | Cinema Village | Opens August 7, 2009 |
| San Francisco, CA | Roxie Cinema | August 28 - September 3, 2009 |
| Portland, OR | Hollywood Theatre | September 18 - 24, 2009 |
| Los Angeles, CA | Laemmle Music Hall | October 9 - 15, 2009 |
First Run Features has partnered with Gigantic Digital Cinema to premiere Bliss online as a streaming download day-and-date with its opening at New York's Cinema Village on Aug. 7. www.giganticdigital.com


More information, including the press kit, photos, and additional playdates, is available at www.firstrunfeatures.com or www.mutlulukfilm.com