A New Documentary About Two Great American Artists
CARMEN & GEOFFREY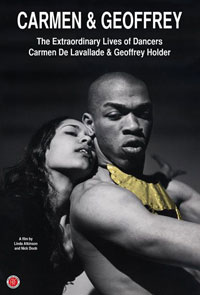 Linda Atkinson and Nick Doob's documentary Carmen & Geoffrey tells a story that is "more than an outstanding, five-decade creative collaboration," says Dance Magazine, "it's also one of the dance world's great love stories."

Carmen & Geoffrey opens at the Quad Cinema in New York on March 13, 2009.

This illuminating documentary chronicles the work of the great American artists, Carmen de Lavallade and Geoffrey Holder, who since the 1950's have both played a vital role in the world of American dance; on Broadway, in television & film, and in the studios of American master choreographers.

Filmed over three years, Carmen & Geoffrey is a spontaneous and revealing portrait that not only looks at their illustrious careers, but also delves deeper, telling the story of a forty-seven year long marriage and the creative partnership that has sustained their accomplishments.

The film juxtaposes beautifully filmed dance performances with intimate interviews, giving the audience a unique look at Carmen de Lavallade & Geoffrey Holder. The viewer not only meets two talented artists, but two good-humored and engaging people whose vibrant personalities jump off the screen.
The film contains rare dance footage from the 50's and 60's, both solos and duets, featuring Alvin Ailey, Herbert Ross, Lester Horton, Joe Layton, Duke Ellington and Josephine Baker in Paris, among others. There are also contemporary works, including Carmen's on-going partnership with Gus Solomons jr and Dudley Williams and a sampling of Carmen's and Geoffrey's current choreographies.

Filming in New York, Texas, Trinidad and Paris, Atkinson and Doob capture the uninterrupted creativity of the couple and that of their distinguished colleagues, while building a story that is distinctly American.

Carmen de Lavallade was born in New Orleans, and moved at an early age with her father and two sisters to Los Angeles, where she won a scholarship to study with the pioneering choreographer, Lester Horton. She soon took along high school class-mate, Alvin Ailey, for his first dance class. She came to New York with Horton's company, dancing the principal role in his production of Salome. As a result, she was offered several movie roles. She appeared in Lydia Bailey, and in Carmen Jones, choreographed by Herbert Ross. It was Ross who asked her to dance in the ground- breaking Broadway production of Truman Capote's House of Flowers, where she met her future husband, Geoffrey Holder.

Soon de Lavallade became a well-known dance presence in New York. She made her debut as a principal dancer at the Metropolitan Opera and went on to work with every prominent choreographer; from Agnes deMille to Glen Tetley, Joe Layton, and John Butler. Butler's A Portrait of Billie, set to four songs by Billie Holiday, became Carmen's signature piece. She also performed internationally, sharing a stage with Josephine Baker and touring the Far East with the de Lavallade-Ailey Dance Company.

She trained as an actress and joined the Yale Repertory Theater in the 1970's, and continues to act on stage and screen. She currently works with Debbie Allen on Soul Possessed, which she performed at the Kennedy Center. She formed her new company, Paradigm, with two other living legends, Gus Solomon's Jr. and Dudley Williams. She has just completed remounting John Butler's Carmina Burana, and restaged Joe Layton's Porgy and Bess, for the Ailey Company.

Geoffrey Holder came from Trinidad to debut in House of Flowers, which he also co-choreographed with Herbert Ross. Later he directed and designed the costumes for The Wiz winning two Tony-Awards in the process. With his 6 foot 6 inch frame, extraordinary voice, and exuberant virtuosi, he seems a force larger than life. A two time Tony-Award winner, Drama Desk winner, Clio Award winner, and recipient of a Guggenheim Fellowship, Geoffrey's many and varied talents have won him recognition as an actor, dancer, singer, choreographer, composer, librettist, director, costume designer, scenic designer, writer, photographer and painter. His ballet, Dougla is a permanent part of the Dance Theatre of Harlem's repertoire, as is his work Prodigal Prince for the Ailey Company. Geoffrey is currently working on a feature film version of Hans Christian Anderson's The Red Slippers, as well as an African-American version of Alice in Wonderland. Additionally, he is the collaborator and subject of a book by the New York Times dance critic, Jennifer Dunning, The Marvelous World of Geoffrey Holder.

Filmmaker Linda Atkinson first met Carmen and Geoffrey while studying acting at the Yale School of Drama. She graduated with an MFA, having won the Carol Dye Acting Prize. She has performed around the country at theatres including The Old Globe, the Yale Rep., the Indiana Rep., the Folger, and the Alaska Rep, New York's Playwright's Horizons, Manhattan Theater Club, The Public, and with Lyn Austin's Lenox Theater Group. She began directing theatre in 1983 and worked at the Cincinnati Playhouse in the Park, the Indiana Rep, the Peterborough Players, WestBank Theater Bar and for NBC' s Another World. Working with her husband, Nick Doob, she produced a prize winning series of health related documentaries for high school students. She has recently directed an original play, FINEPRINT, at Sing Sing Correctional Facility. She is currently producing a film based on Robert Coles's Women of Crisis.

Nick Doob has been a director, cinematographer and editor on numerous award-winning films. He has shot four Oscar nominated films including From Mao to Mozart, which won the Oscar. He directed Down from the Mountain with D.A. Pennebaker and Chris Hegedus, and Elaine Stritch at Liberty, which won an Emmy. He has shot a number of Pennebaker-Hegedus films, including Ziggy Stardust and the Spiders from Mars (1973), The War Room (1993), and directed with Chris Hegedus, Al Franken: God Spoke. In 2000 he won an Emmy as a producer on American High, the acclaimed verité TV series. For HBO he co-directed A Boy's Life with Rory Kennedy and is currently directing and producing a film about Alzheimer's Disease for HBO.

CARMEN AND GEOFFREY
2006, 80 Minutes, Color, Digital Beta, 4:3, Stereo
A Film by Linda Atkinson and Nick Doob
With: Carmen de Lavallade; Geoffrey Holder; Boscoe Holder; Leo Holder;
Gus Solomons jr; Dudley Williams; Judith Jamison; Jennifer Dunning; Alvin Ailey; Josephine Baker
Photography: Nick Doob
Additional Photography: Leo Holder; Ron Gray
Sound: Linda Atkinson
Editing: Nick Doob


PRESS SCREENINGS:

Wednesday February 25, 6:00 p.m.
Monday March 9, 12 noon

Magno Review 2, 729 Seventh Ave
RSVP by contacting kelly.hargraves@firstrunfeatures.com or Tibby Iz at 212-243-0600 x27
For press kits, photos, play dates and more info go to www.firstrunfeatures.com