THE SUNDANCE DAZZLER
CARMO, HIT THE ROAD
REFUELS THE CLASSIC ROAD-TRIP GENRE

OPENS OCTOBER 15, 2010 AT NEW YORK' S QUAD CINEMA

"Inspired by the wildest stylings of Leone, Fellini and Tarantino...
A screwball road movie with a few screws loose." - Todd McCarthy, Variety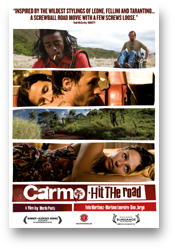 Edgy, hard as nails, Brazilian belle Carmo would do anything to escape the hell hole of a Brazilian border town where she lives. So when a lonesome, wheelchair-bound petty thief named Marco arrives on the scene in an old pick up truck full of smuggled goods, she jumps at the chance to help him transport the shipment.

Carmo and Marco start a lawless, reckless journey of self discovery, and an unlikely romance through the lush and jagged South American landscape, chased by banditos, the police and their own passions alike.


ABOUT THE DIRECTOR
Murilo Pasta is a Brazilian-Italian filmmaker who has spent the best part of his career in the UK. He is the first Latin American to direct mainstream TV drama in Britain, for the BBC, Channel 4, Sky Television and Five. A winner at San Francisco, Nashville and Oporto, and a BAFTA nominee for 'Best Short' with The Tale of the Rat that Wrote. Murilo wrote the screenplay of Transit, MTV Europe's first ever feature film production shot in Kenya, Mexico, Russia and the U.S.A. His short Sniffers accompanied Being John Malkovich in London cinemas and, sponsored by the British Council, was shown at a host of film festivals worldwide. Murilo has directed commercials in Europe for Lars von Trier's Zentropa London office and for Arcadia Pictures in Barcelona. His Carmo screenplay was selected for both the Moonstone Screenwriters Lab and the Berlinale Co-production Market.
CARMO, HIT THE ROAD
100 minutes- Portuguese & Spanish w/English subtitles, 35mm & Digital, 2008, Brazil

Written and Directed by Murilo Pasta
Producers Xavier Granada, Alberto Aranda, Roberto d'Avila, Murray Lipnik,
Grzegorz Hajdarowicz, Elisa Alvares
Director of Photography Robbie Ryan
Original Score Zacarías M. de la Riva
Original Song Zeca Baleiro
Film Editor Nacho Ruiz Capillas
Sound Designer Fabiola Ordoyo
Cast:
Fele Martínez ... Marco Bermejo
Mariana Loureiro ... Maria do Carmo
Seu Jorge ... Amparo de Jesús
Márcio Garcia ... Diamantino dos Anjos
Paca Gabaldón ... Luz Guarany
Rosi Campos ... Serrana de Jesús Feliciano
Norival Rizzo ... Alberto Chagas


Press materials are available at: firstrunfeatures.com/carmohittheroad_press.html