In the Tradition of FOOD INC. and FAST FOOD NATION
Comes a Must-See Film from the Birthplace of Fine Cuisine

Opening October 16, 2009 at New York's Quad Cinema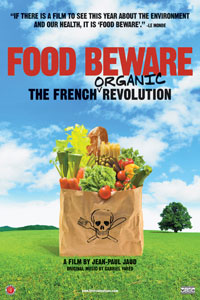 Over 50 years have passed since Jacques Cousteau won worldwide acclaim and a Palme d'Or at Cannes for his film The Silent World – one of the few important environmental films ever to come out of France. Now, from director Jean-Paul Jaud comes Food Beware: The French Organic Revolution, a moving testament to one community's fight for safe food production and a healthy diet for our children – and ourselves.
This eye-opening documentary (French title: "Nos enfants nous accuseront") follows an experiment in a small village in the mountains of France where the town's mayor has decided to make the school lunch menu organic, with much of the food grown locally. He argues that unless we act now to change industrial models of agricultural production that rely on petro-chemical fertilizers and insecticides, our children will be condemned to rapidly deteriorating health in the form of cancers, infertility and other illnesses linked to environmental factors.
Featuring interviews with children, parents, teachers, health care workers, farmers, elected officials, scientists and researchers, Food Beware takes a powerful look at the abuses of the food industry, the challenges and rewards of safe food production, and the practical solutions that everyone can take part in. This remarkable story of one community's crusade to save their children's health is both food for thought and a blueprint for a growing revolution.
Food Beware: The French Organic Revolution
2008, 112 minutes, color, English & French w/English subtitles, video
Directed by Jean-Paul Jaud
Original music: Gabriel Yared
Editor: Isabelle Szummny
Producer J+B Sequences: Jean-Paul Jaud & Béatrice Jaud

"If there is a film to see this year about the environment and our health, it is Food Beware."
- LE MONDE
"A must-see!"
- VIVA MAGAZINE (FRANCE)
"A powerful, important film! An inspiring and educational tale."
- LA VIE VERTE (A GUIDE TO WHAT'S GREEN IN FRANCE)
"What we found remarkable about this movie is that not only is it a warning cry but also – indeed mostly – it is a celebration of life and hope offering very simple solutions."
- WORLD WILDLIFE FUND (FRANCE)


More information, including the press kit, photos, and additional play dates, available at www.firstrunfeatures.com