First Run Features Announces U.S. Theatrical Premiere of
An Epic Documentary by Mathieu Roy & Harold Crooks



Executive Produced by Martin Scorsese & Mark Achbar (The Corporation)
Produced by Daniel Louis & Denise Robert (The Barbarian Invasions)

Opening in New York April 6, 2012
Nationwide Rollout Begins April 20

New York Press Screenings

Wednesday, March 21st at 6 p.m.
Magno Sound & Video | 729 7th Ave. (b/t 48th St. & 49th St.) | 212-302-2505

Wednesday, March 28th at 11 a.m.
Cinema Village | 22 E. 12th St. (b/t 5th Ave. & University Pl.) | 212-924-3363

RSVP to: kelly.hargraves@firstrunfeatures.com

Screeners also available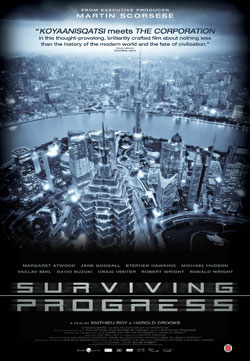 Technological advancement, economic development, population increase - are they signs of a thriving society? Or too much of a good thing?

Based on Ronald Wright's best-seller A Short History of Progress, this intelligent, provocative documentary by Mathieu Roy and Harold Crooks explores the concept of progress in our modern world, guiding us through a sweeping but detailed survey of the major "progress traps" facing our civilization in the arenas of technology, economics, consumption, and the environment.

Featuring powerful arguments from such visionaries as Jane Goodall, Margaret Atwood, Stephen Hawking, Craig Venter, Robert Wright, Marina Silva, Michael Hudson, and Ronald Wright himself, this enlightening and visually spectacular film invites us to contemplate the progress traps that destroyed past civilizations and that lie treacherously embedded in our own.

Are the advances in human technology truly advances? Leading critics of Wall Street, cognitive psychologists, and ecologists lay bare the consequences of progress-as-usual as the film travels around the world - from a burgeoning China to the disappearing rainforests of Brazil to a chimp research lab in New Iberia, Louisiana - to construct a shocking overview of the way our global economic system is eating away at our planet's resources and shackling entire populations with poverty.

Providing an honest look at the risks and pitfalls of running 21st Century "software" (our accumulated knowledge) on 50,000-year-old "hardware" (our primate brains), Surviving Progress offers a challenge: to prove making apes smarter was not an evolutionary dead end.

Director and co-writer Mathieu Roy is a Montreal-based filmmaker whose career path has steered him into cinema, theatre, opera, TV and classical music. In the process, Mathieu has traveled the world and collaborated with some of the world's most prominent artists, including legendary filmmaker Martin Scorsese. His first feature documentary, François Girard en trois actes, was awarded the 2005 prix Gémeau for best cultural documentary. Mathieu's latest documentary, Ecclestone's Formula, is the first project to tell the story of Formula One supremo Bernie Ecclestone. Mathieu's current film projects include his first fiction feature and a personal sequel to Surviving Progress.

Co-director and co-writer Harold Crooks is an author and writer/producer whose award-winning and acclaimed documentary film credits include The Corporation; Karsh Is History; Pax Americana and the Weaponization of Space; The World Is Watching; Bhopal: The Search for Justice; Champagne Safari; and the TV series Black Coffee. He is a recipient of a Genie Award of the Academy of Canadian Cinema and Television, a Gold Hugo at the Chicago International Film Festival, and many other awards and grants. Crooks also authored an exposé of the transnational waste management industry, "Giants of Garbage." Crooks co-wrote, with the artist Medrie MacPhee, Betting on Love, a drama telecast on Bravo's Anthology of Love Stories series.


Acclaim for Surviving Progress

"One of the most thought-provoking documentaries I've ever seen, and also one of the best looking.
Epic in scope...takes Jared Diamond's Collapse a step farther."
- Copernicus, Ain't it Cool News

"If An Inconvenient Truth and Inside Job had a brainy love child, it might look like Surviving Progress."
- Brian D. Johnson, MacLeans

"An essential and vital documentary. If you're still asking yourself what the Occupy Movement is all about,
get yourself a ticket to Mathieu Roy and Harold Crooks' crucial, captivating and profoundly disturbing film."
- Greg Quill, Toronto Star

"Koyaanisqatsi meets The Corporation in this thought-provoking, brilliantly crafted film about
nothing less than the history of the modern world and the fate of civilization."
- Kevin Laforest, Montreal Hour


SURVIVING PROGRESS
86 minutes, color, 35mm & Digital, Dolby SRD, 1:85, 2011
Presented by: Cinemaginaire & Big Picture Media in co-production with the National Film Board of Canada
Inspired by: A Short History of Progress by Ronald Wright
Director & Co-writer: Mathieu Roy
Co-director & Co-writer: Harold Crooks
Executive Producers: Martin Scorsese, Mark Achbar, Betsy Carson, Emma Tillinger Koskoff
Executive Producer, NFB: Silva Basmajian
Producer, NFB: Gerry Flahive
Music Contributions: Patrick Watson, Michael Ramsey
Producers: Daniel Louis, Denise Robert

Press materials available at www.firstrunfeatures.com/survivingprogress_press.html