First Run Features to release award-winning documentary


Opens Friday, February 3rd 2012 at New York's Quad Cinema
and other cities nationally as well as on select VOD platforms
Wind power: it's clean; it's green; it's good.
Or is it?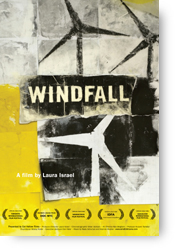 Wind power…it's sustainable…it burns no fossil fuels…it produces no air pollution. What's more, it cuts down dependency on foreign oil. That's what the residents of Meredith, New York first thought when a wind developer looked to supplement the rural farm town's failing economy with a farm of their own – that of 40 industrial wind turbines.
WINDFALL, Laura Israel's richly photographed feature-length film, documents how this proposal brutally divides the people of Meredith as they fight over the future of their community. Attracted at first to the financial incentives that would seemingly boost their dying economy, many residents grow alarmed once they discover that the 400-foot high windmills slated for Meredith may bring side effects they never dreamed of. Opposition intensifies when they discover that the fiscal model for wind energy development produces huge profits, not for host towns like Meredith, but for a mysterious group of outside investors, aided and abetted by huge tax breaks and Wall Street sleight-of-hand.
Israel also turns her camera on Tug Hill, New York, another small upstate town, where wind power is a done deal. Tug Hill's 195 wind turbines create low frequency "whomping" sounds and strobe-like effects, which have significantly downgraded the quality of life and in some cases, the health of wind turbine neighbors unable to sell their homes. Meanwhile, the Meredith Town Board pushes to put their wind turbine plan through.
With wind development in the United States growing annually at 39 percent, WINDFALL, is an eye-opener that should be required viewing for anyone concerned about the environment and the future of renewable energy.
Director Laura Israel was born in New Jersey and after earning a degree in film from NYU, she edited music videos for Lou Reed, Keith Richards, David Byrne, New Order, Patti Smith, Ziggy Marley, Sonic Youth and many others. Laura has worked as photographer/filmmaker Robert Frank's editor for two decades. The films have screened all over the world and won many awards. She also edited Stephanie Black's feature documentary Africa Unite; Life For a Child directed by Academy Award-nominated DP Ed Lachman; and Music of Regret, by photographer Laurie Simmons. Editing credits include advertising and television promo campaigns that have garnered AICP awards, International Film and TV awards, a GLAAD award, an Emmy award, and a Monitor award for editing. This is Laura Israel's first film as director, and she was named one of Filmmaker Magazine's 25 New Faces of Independent Film. Laura is currently working on her next film, a documentary about Robert Frank.
Founded in 1979, First Run Features is one of American's notable distributors of documentary and foreign films. Recent releases include Jason Cohn's and Bill Jersey's EAMES: THE ARCHITECT AND THE PAINTER, DA Pennebaker's and Chris Hegedus's KINGS OF PASTRY, Ken Bowser's PHIL OCHS: THERE BUT FOR FORTUNE, Joe Berlinger's CRUDE, and Judith Ehrlich's and Rick Goldsmith's Academy Award-nominated THE MOST DANGEROUS MAN IN AMERICA: DANIEL ELLSBERG AND THE PENTAGON PAPERS.
SnagFilms will be the exclusive digital on-demand distributor for WINDFALL across all platforms.
Honors and acclaim for WINDFALL:
World Premiere at Toronto International Film Festival 2010
WINNER: Grand Prize, Doc NYC 2010
HONORABLE MENTION: Talking Pictures Festival 2010
WINNER: Best Documentary, Woods Hole Film Festival 2011
OFFICIAL SELECTION: IDFA Green Screen Competition 2010
Screened in 30 festivals internationally since TIFF
"Beautifully produced, elegantly structured, edited authoritatively, with unforgettable characters."
-Patricia Aufderheide, Center for Social Media
"Fascinating, insightful, and fair. An intimate portrait of one New York community in heavy battle."
-Stewart Nusbaumer, Huffington Post
"The film isn't agenda-driven advocacy, but an invitation to think critically about an alternative energy source often presented as a panacea." - Colin Covert, Minneapolis Star Tribune
"Never alarmist or patronizing...strung so tightly and effortlessly together that it's hard to believe this is a first-time filmmaker at hand." -Christopher Bell, The Playlist, Indiewire
"Provides a much-needed view of the growing backlash against the rapid expansion of the wind industry." -Robert Bryce, Energy Tribune
"Emotionally charged human conflict that results in a genuine cliffhanger."
-Ann Hornaday, Washington Post
"Chilling." -Stanley Fish, New York Times


Windfall
83 minutes, English, Digital, 2010, Documentary
Director/Producer: Laura Israel
Director of Photography: Brian Jackson
Producer: Autumn Tarleton
Co-Producer: Stacey Foster
Executive Producer: Don Faller
Production Services: Doublewide Media
Art Direction: Alex Bingham
Editors: Laura Israel, Stacey Foster, Alex Bingham
Technical Advisor: Lisa Linowes
Animation: Deen Modino
Voice Over: Chuck Coggins
Soundtrack Composer: Wade Schuman
Music Supervisor: Olivier Conan
Music: Hazmat Modine, Barbès Records
Press materials are available at: firstrunfeatures.com/windfall_press.html