To sign up for the Non- Theatrical / Educational Newsletter, please send us your email address and you'll be added to our list.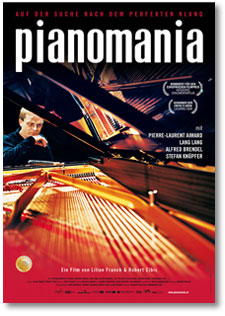 PIANOMANIA


Directors - Robert Cibis & Lilian Franck
Run Time - 93 minutes
Language - English & German w/English subtitles
Format - DVD-R
Year - 2011
Genre - Documentary
Educational Interest- Biographies/Profiles, Cultural Studies, Music, Performance
Institutional DVD Price: $195

As Steinway & Sons' chief technician and Master Tuner, Stefan Knüpfer is dedicated to the unusual task of pairing world-class instruments with world-famous pianists. Juggling the demands of the pianist, the piano, and the piece to find the perfect match requires boundless enthusiasm, but also endless patience and nerves of steel. Pianomania is a humorous and surprisingly suspenseful peek into the clash of wills between a craftsman and the renowned pianists who rely on his talent – including Lang Lang, Alfred Brendel, Rudolf Buchbinder and Pierre-Laurent Aimand.
"A fascinating glimpse into a very specialized corner of the music world." - NPR Music