To sign up for the Non- Theatrical / Educational Newsletter, please send us your email address and you'll be added to our list.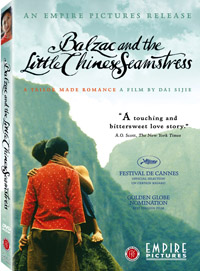 BALZAC AND THE LITTLE CHINESE SEAMSTRESS
Director - Dai Sijie
Run Time - 111 minutes
Language - Mandarin w/English subtitles
Format - DVD, color
Year - 2002
Genre - Foreign drama
Educational Interest- Asia, China, Cinema Studies, Empire Collection, History (World)


Institutional DVD Price: $195
Based on the best-selling novel set during China's cultural revolution, this acclaimed film is about two young men, university students, who are sent to a remote mountain village for a Maoist re-education, to purge them of their decadent Western education. Amid the back-breaking work and stifling ignorance of the community, the local beauties are the only respite from their miserable life. But none compare to the granddaughter of the region's tailor. With a secret cache of forbidden books, they set about to woo her.
"Exquisite! A love song to great literature." - Los Angeles Times
"A jewel of a movie!" - Washington Post