To sign up for the Non- Theatrical / Educational Newsletter, please send us your email address and you'll be added to our list.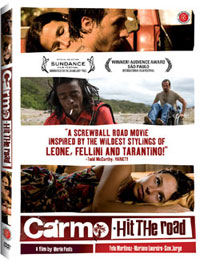 CARMO, HIT THE ROAD
Director - Murilo Pasta
Run Time - 99 minutes
Language - Spanish & Portuguese w/English subtitles
Format - DVD
Year - 2010
Genre - Foreign Comedy
Educational Interest- Brazil, Cinema Studies
Institutional DVD Price: $295
Marco is a lonely handicapped Spanish smuggler, driving through Brazil to sell his cheap goods. When two bandits assault him and steal his load, he is miraculously saved by Carmo, a beautiful local girl who would rather die than spend another day in the hellhole where she lives. Carmo and Marco begin an intense romance that takes them on a lawless, reckless journey through the breathtaking South American landscape.