To sign up for the Non- Theatrical / Educational Newsletter, please send us your email address and you'll be added to our list.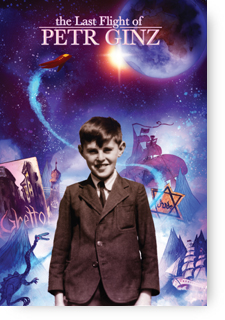 THE LAST FLIGHT OF PETR GINZ
Director - Sandra Dickson & Churchill Roberts
Run Time - 52 minutes
Language - English & Hebrew w/English subtitles
Format - DVD / Digital Streaming
Year - 2011
Genre - Documentary
Educational Interest - Adolescence, Animated Films, Biographies/Profiles, History (World), Human Rights, Jewish Studies, World War II


Institutional DVD Price: $195 with PPR
A free 32 page Study Guide produced by the Holocaust and United Nations Outreach Programme is included with the 67 minute version. Readings, questions, activities, maps, glossary, and more!
By age 14, Petr Ginz wrote five novels and penned a diary about the Nazi occupaton of Prague. By 16, he produced more than 170 drawings and paintings, edited an underground magazine, wrote numerous short stories, and walked to the gas chamber at Auschwitz. A story of tragedy but also celebration, this film combines live action to create a testament to how one boy's creativity represents the best of what makes us all human.
"Astonishing...an exhilirating, moving documentary." - Matthew Bernstein, Emory University
"This astonishing documentary resurrects the life and work of an Auschwitz victim whose imagination knew few bounds Exhilarating and moving." - Atlanta Jewish Film Festival
"Deeply affecting. Highlights the best qualities of what it means to be human." - Justin Li, Sound on Sight