To sign up for the Non- Theatrical / Educational Newsletter, please send us your email address and you'll be added to our list.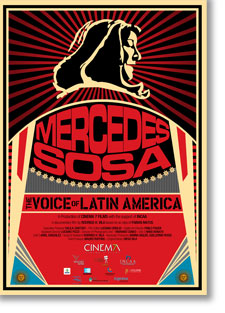 MERCEDES SOSA: The Voice of Latin America
Director - Rodrigo H. Vila
Run Time - 52 or 93 minutes
Language - English, Spanish, Portuguese and French w/ English Subtitles
Format - DVD / Digital Streaming
Year - 2013
Genre - Documentary
Educational Interest- Argentina, Biographies/Profiles, Latin America, Music, Women's Studies
Institutional DVD Price: $295
In 1960s, prior to her fame and international acclaim, Mercedes Sosa defied expectations by drafting, together with four other young musicians, the "Manifesto del Nuevo Cancionero" ("The New Songbook Manifesto"). How did this manifesto make an impact on youth culture in Argentina and future generations of Latin Americans? How much did the "Nuevo Cancionero" influence the development of the "Nueva Trova Cubana," the folk-music revolution driven by its message of social and political change? How did Sosa's ideology affect the politics of both emerging and developed countries? Apart from the millions of records she sold, the thousands of international concerts, her countless fans and detractors, Mercedes Sosa left behind an indelible legacy, an ideal that has not become a reality yet but which keeps pushing forward. Mercedes Sosa, The Voice of Latin America is an intimate and informative journey into the world of a ground-breaking artist and activist.