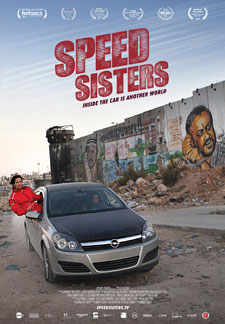 First Run Features announces the US theatrical premiere of the award-winning documentary SPEED SISTERS by Canadian filmmaker Amber Fares, on February 10, 2017, at New York's Cinema Village. The film will release day and date on iTunes.

The film tells the exhilarating story of "The Speed Sisters," the first all-woman race car driving team in the Middle East. Grabbing headlines and turning heads at improvised tracks across the West Bank, these five women have sped their way into the heart of the gritty, male-dominated Palestinian street car-racing scene. Weaving together their lives on and off the track, SPEED SISTERS is a surprising journey into the drive to go further and faster than anyone thought possible.

SPEED SISTERS was directed and produced by Amber Fares, produced by Avi Goldstein and Jessica Devaney, and edited by Rabab Haj Yahya, with cinematography by Amber Fares and Lucy Martens and featuring a soundtrack of independent Middle Eastern artists.

The film premiered at Hot Docs in 2015, where it was one of the top 20 Audience Choice Award winners. It has screened at dozens of leading film festivals around the world, winning the Audience Award at the Irish Film Institute Festival, Best Documentary at Vail Film Festival, and Best Documentary at Adelaide Film Festival.

Interviews are available with director Amber Fares and producers Avi Goldstein and Jessica Devaney.

"An eye-opening doc that succeeds in its goal of shattering stereotypes." - The Hollywood Reporter

"A spirited, crowd-pleasing portrait." - IndieWire

"Kinetic." - Sports Illustrated

"Nothing will make you want to get behind a steering wheel faster."- Glamour

"Speed Sisters shows the magic of daily life in Palestine despite the reality of ongoing military occupation." - The Huffington Post

"Strikes a perfect balance, telling a righteous, uplifting story of triumph against the odds without ever losing sight of the bigger political picture." - Time Out London

"An engaging, high octane documentary... a savvy and at times nicely spikey film." - Screen Daily