TALES FROM THE SCRIPT

The Most Comprehensive Documentary Ever Made About Screenwriting
Companion Piece to Major Book from HarperCollins Publishers
Available on DVD beginning April 20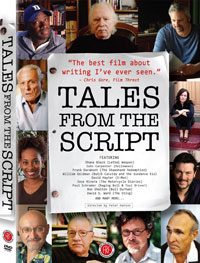 TALES FROM THE SCRIPT presents a comprehensive look at the eternal quandary of the Hollywood screenwriter. By showcasing the first-person experiences of dozens of writers, from A-listers to newcomers, the dual project provides a mix of you-are-there gossip and practical advice.

The film features exclusive interviews with a who's who of Hollywood storytellers, from newcomers to veterans. Among the 46 screenwriters featured in the movie are Allison Anders (Gas Food Lodging), John August (Go), Shane Black (Lethal Weapon), John Carpenter (Halloween), Frank Darabont (The Shawshank Redemption), Antwone Fisher (Antwone Fisher), two-time Oscar winner William Goldman (The Princess Bride), David Hayter (Watchmen), Oscar winner Bruce Joel Rubin (Ghost), Paul Schrader (Taxi Driver), Guinevere Turner (American Psycho), and Oscar winner David S. Ward (The Sting). The companion book features additional off-camera interviews with, among others, Mike Binder (The Upside of Anger), Nora Ephron (Julie & Julia), Robert Mark Kamen (Taken), and Paul Mazursky (An Unmarried Woman).

TALES FROM THE SCRIPT premiered at the Palm Springs International Film Festival in January 2009 and played the festival circuit throughout the year, concluding with the Austin Film Festival and the Starz Denver Film Festival. The film was also selected for a special presentation by the prestigious American Cinematheque in Los Angeles.


DVD Bonus Features: Bonus Film: More Tales from the Script (47 min.) Fascinating unheard stories from top screenwriters • Bonus Film: The Gospel According to Bill (12 min.) The wit and wisdom of author/screenwriter William Goldman • Bonus Film: Advice for New Screenwriters (9 min.) Priceless tips and inspiration for beginners.
"Relentlessly entertaining!" - NEW YORK MAGAZINE
"Highly enjoyable. . . . A frank, articulate, often crisply funny group of scribes."
- Gary Goldstein, LOS ANGELES TIMES
"Full of wry one-liners, well-spun anecdotes, and pithy observations on the movie-making industry." - Ernest Hardy, VILLAGE VOICE
"A lively collection of war stories from a host of screenwriters with experience in the trenches." - Todd McCarthy, VARIETY
"In Peter Hanson's dishy documentary, 46 screenwriters gab agreeably about the tribulations of their profession. . . . Matching faces to scripts is wicked fun."
- Jeannette Catsoulis, NEW YORK TIMES
"The best film about writing I've ever seen." - Chris Gore, FILM THREAT
"An instant classic." - James van Maanen, TRUST MOVIES


TALES FROM THE SCRIPT
Feature-Length Documentary
105 Minutes / Color / English / Stereo / 2009 / USA
Based on an Idea by PAUL ROBERT HERMAN
Edited by J.D. FUNARI
Music by T.J. RAIDER
Archival Supervisor TIM MERRILL
Executive Producers RICK D'AVINO & PAMELA MURPHY
Written and Produced by PETER HANSON and PAUL ROBERT HERMAN
Directed by PETER HANSON

Participants: Allison Anders, Jane Anderson, Doug Atchison, John August, Shane Black, John D. Brancato, John Carpenter, Larry Cohen, Frank Darabont, Steven E. de Souza, Gerald DiPego, Mark Fergus, Antwone Fisher, Naomi Foner, Joe Forte, Josh Friedman, Mick Garris, William Goldman, David Hayter, Peter Hyams, Michael January, Steve Koren, Jonathan Lemkin, Andrew W. Marlowe, Mark O'Keefe, Dennis Palumbo, Zak Penn, Billy Ray, Adam Rifkin, Jose Rivera, Mark D. Rosenthal, Ari B. Rubin, Bruce Joel Rubin, Richard Rush, Paul Schrader, Melville Shavelson, Ron Shelton, Ronald Shusett, Stephen Susco, Guinevere Turner, Kriss Turner, David S. Ward, James L. White, Michael Wolk, Kris Young, and Justin Zackham

A GRAND RIVER FILMS / JADE TIGER FILMS Production / A FIRST RUN FEATURES release

UPC: 7-20229-91422-2
Catalog #: FRF 914222D
SRP: $24.95
Street Date: April 20


The official website for the book/documentary project is talesfromthescript.com

The 346-page paperback is available through Amazon.com and other retail websites
TALES FROM THE SCRIPT is currently still in theaters.