To sign up for the Non- Theatrical / Educational Newsletter, please send us your email address and you'll be added to our list.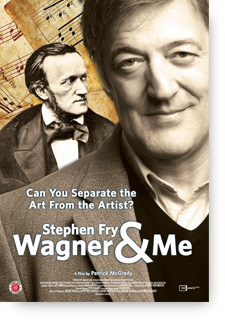 WAGNER & ME

Director - Patrick McGrady
Run Time - 89 minutes
Language - English
Format - DVD-R
Year - 2011
Genre - Documentary
Educational Interests - Biographies/Profiles, Cultural Studies, Jewish Studies, Music, Performance, Philosophy

Institutional DVD Price: $195

English actor and raconteur Stephen Fry explores his passion for history's most controversial composer. Can he salvage Richard Wagner's music from its association with Hitler? Set against the backdrop of the annual Bayreuth Festival in Germany, this is a fantastic introduction to the life and legacy of one of music's most complicated geniuses.
"The questions he posed about art and politics, propaganda, power, myth and belonging and the sheer potency of expensive music were real and profound." – The Sunday Times