The Controversial Documentary by Léa Pool


Opens in New York & Los Angeles June 1, 2012
Nationwide Rollout Begins June 8 (details below)


New York Press Screenings

Wednesday, May 9th at 6 p.m.
Magno Sound & Video | 729 7th Ave. (b/t 48th St. & 49th St.) | 212-302-2505

Tuesday, May 22nd at 10:30 a.m.
IFC Center | 323 6th Ave. (at West 3rd St.) | 212-924-7771

RSVP to: kelly.hargraves@firstrunfeatures.com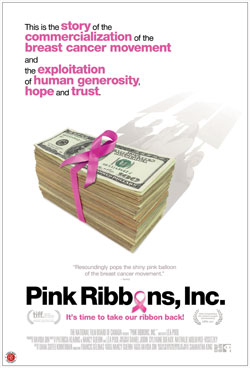 Who really benefits from the pink ribbon campaigns - the cause or the companies?

Directed by veteran filmmaker Léa Pool for the National Film Board of Canada, Pink Ribbons, Inc. examines the ubiquitous pink ribbon campaigns for breast cancer. The film looks at how the breast cancer movement has moved from activism to consumerism and challenges viewers to rethink their assumptions about the meaning of breast cancer in our society.

The film is inspired by the book Pink Ribbons, Inc.: Breast Cancer and the Politics of Philanthropy by Dr. Samantha King, who is interviewed in the film along with activists and medical experts like Barbara A. Brenner, Dr. Charlene Elliott, Barbara Ehrenreich and Dr. Susan Love. Also featured are candid personal discussions among women living with breast cancer, as well as interviews with the leading players in breast cancer fundraising, including the director of the recently embattled Susan G. Komen for the Cure, Nancy Goodman Brinker.

Pink Ribbons, Inc. reveals how breast cancer fundraising may boost corporate profits and brand awareness more than it benefits people with the disease. After all, despite the millions of dollars raised each year for the cause, breast cancer rates are rising, prevention is vastly underfunded and, over the decades, we've seen only incremental improvements in chemotherapy and surgery treatments. Even worse, the film suggests that some of same companies profiting from pink marketing campaigns may actually be contributing to the breast cancer epidemic by selling known carcinogens.

Director Léa Pool hopes the film will encourage people "to be more critical and more politically conscious about our actions and to stop thinking that by buying pink toilet paper we're doing what needs to be done." She adds, "I don't want to say that we absolutely shouldn't be raising money. We are just saying, 'Think before you pink.'"

Léa Pool's highly personal and emotional vision has singled her out as one Canada's great filmmakers. In 1979, Strass Café launched a career that was to bring us great productions such as La femme de l'hôtel, Anne Trister, À corps perdu, La demoiselle sauvage, and Mouvements du désir, which garnered eight Genie Award nominations. Emporte-moi won several awards including the Berlin Festival Ecumenical Jury Special Award; and Lost and Delirious was shown at many festivals. The Blue Butterfly (starring William Hurt) was Léa Pool's first foray into making a family movie. More recently she directed Maman est chez le coiffeur and La dernière fugue based on Gil Courtemanche's novel. She has also directed several documentaries for television such as Gabrielle Roy, winner of a Gémaux award for best documentary. Léa Pool's impact on the seventh art can be measured by the many tributes and retrospectives of her work that have been held around the world since 1989. In 2006 she won the prestigious Albert-Tessier Award and in 1994 she was appointed Chevalier de l'Ordre des Arts et des Lettres de France.

First Run Features will partner with Breast Cancer Action (BCAction) for the U.S. release of Pink Ribbons, Inc. In 2002, BCAction launched the highly successful direct action campaign Think Before You Pink® in response to growing concern that pink ribbon marketing in the name of breast cancer fundraising was doing more harm than good. BCAction demands accountability and transparency from those claiming to support women with breast cancer, and in the last ten years the Think Before You Pink campaign has achieved a number of successes. For more information, please visit www.bcaction.org.
Praise for PINK RIBBONS, INC.

"Indignant and subversive…Resoundingly pops the shiny pink balloon of the breast cancer movement."
- John Anderson, Variety

"Powerful and disturbing. A no holds barred look at the 'breast cancer culture.'"
- David-Elijah Nahmod, Bay Area Reporter


Additional Playdates & Press Contacts


| | | | |
| --- | --- | --- | --- |
| Date | City | Venue | Press Contact (click to email) |
| June 1, 2012 | New York, NY | IFC Center | Kelly Hargraves |
| June 1, 2012 | Los Angeles, CA | Laemmle Theatres | Kelly Hargraves |
| June 8, 2012 | Washington, DC | Landmark E Street | Stephanie Kagan |
| June 8, 2012 | Chicago, IL | Gene Siskel Film Center | Karen Durham |
| June 8, 2012 | Hartford, CT | Real Art Ways Cinema | Diana Rosen |
| June 22, 2012 | Boston, MA | Coolidge Corner Theatre | Marianne Lampke |
| June 22, 2012 | San Diego, CA | Landmark Ken | Chris Principio |
| June 29, 2012 | San Francisco, CA | Landmark Lumiere | Steve Indig |
| June 29, 2012 | Berkeley, CA | Landmark Shattuck | Steve Indig |
| June 29, 2012 | San Rafael, CA | San Rafael Film Center | Dan Zastrow |
| July 6, 2012 | Minneapolis, MN | Landmark Theatres | Hugh Wronski |
| July 6, 2012 | Denver, CO | Landmark Theatres | David Kimball |
| July 13, 2012 | Seattle, WA | SIFF Cinema | Sarah Loritz |
| July 20, 2012 | Atlanta, GA | Landmark Midtown Art | Laura Resnick |
| July 20, 2012 | St. Louis, MO | Landmark Theatres | Laura Resnick |
| July 27, 2012 | Philadelphia, PA | Landmark Ritz Bourse | Stephanie Kagan |
| July 27, 2012 | Phoenix, AZ | Harkins Camelview 5 | Brenda Cortez |

PINK RIBBONS, INC.
Run Time: 98 minutes
Language: English
Format: 35mm & digital
Year: 2011
Genre: Documentary
Director, Writer: Léa Pool
Producer: Ravida Din
Executive Producer: Ravida Din
Associate Producer: Nancy Guerin
Researcher/Writers: Patricia Kearns, Nancy Guerin
Interviewees: Judy Brady, Barbara A. Brenner, Nancy G. Brinker, James Brophy, PhD, Janet Collins, Carol Cone, Dr. Charlene Elliott, Barbara Ehrenreich, Charlotte Haley, Jane Houlihan, Marc Hurlbert, PhD, Dr. Marion Kavanaugh-Lynch, Margaret Keith, PhD, Samantha King, Evelyn H. Lauder, Ellen Leopold, Dr. Susan Love, Kim McInerney, Dr. Olufunmilayo I. Olopade, MD, IV League, The Plastics Focus Group

Press materials available at www.firstrunfeatures.com/pinkribbons_press.html