---
---
"Confronts, with whimsy and hellfire, the clash between religion and homosexuality."
- New York Magazine
"An incredibly powerful film everybody should see. It restores your faith in people."
- National Public Radio
"EYE-OPENING!" - Entertainment Weekly
"MOVING!" - O, The Oprah Magazine
"INSPIRING!"- Los Angeles Times
"Enlightening, heart-wrenching and uplifting!" - Salt Lake Tribune
"An entertaining and even moving exploration of the sometimes frayed intersection where Christianity meets homosexuality." - Washington Post
"POWERFUL! A brave and noble effort to heal a gaping wound in our society." - Salon.com
"BRILLIANT! Ably researched and deftly directed!" - Miami Herald
"A TRIUMPH! Provides a perfect example of how Christians can accept homosexuality without betraying their beliefs." - Philadelphia Inquirer


---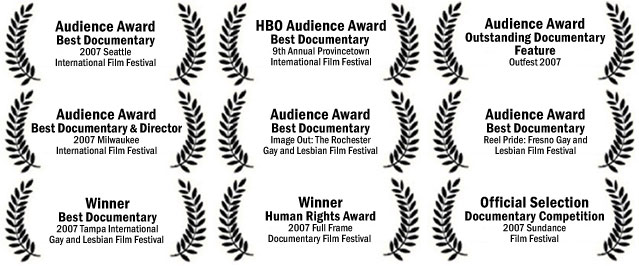 ---
In the Eye of the Storm: Swept to the Center by God
by Gene Robinson
Jesus, the Bible, and Homosexuality: Explode the Myths, Heal the Church
by Jack Rogers
What the Bible Really Says About Homosexuality
by Daniel Helminiak
Those 7 References: A Study of 7 References to Homosexuality in the Bible
by John F. Dwyer
A Biblical Defense Guide for Gays, Lesbians and Those Who Love Them
by Craig Bettendorf
Bulletproof Faith: A Spiritual Survival Guide for Gay and Lesbian Christians
by Candace Chellew-Hodge


---
See details about this film's theatrical run.
Read director Daniel Karslake's 1/08 blog statement.
5 Documentaries that Changed the World, Entertainment Weekly, 9/27/10
Read this essay in The Huffington Post about the film's influence.
Learn more about This I Know, a multi-week companion study for individuals and small groups created for the film.


---
• New Interviews with Director Dan Karslake and Bishop Gene Robinson
• Film Notes
• Biographies
• Resources
• Photos
• Trailers
• Optional Spanish subtitles